Break the 7 device limit on your SCSI bus
One SCSIplex connects up to 8 SCSI devices under a single SCSI ID. This allows you to have 56 SCSI devices per SCSI bus. Logical Unit Numbers (LUNs), which are part of the SCSI specification, are used by the SCSIplex to enable access to the additional devices. Each ID on a SCSI bus has up to 8 available LUNs, each of which can be a separate SCSI device when using a SCSIplex on the bus. Cabling problems associated with SCSI are also remedied. Each bus of 8 devices is physically isolated from the main bus. Allowable cabling lengths are doubled with each SCSIplex.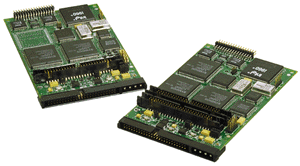 OAI's 7 and 8 channel SCSI expander

Easy integration is accomplished with virtually all SCSI devices
Device drivers need only to support LUNs (part of the SCSI specification) to work with the SCSIplex. Device drivers which make full use of the SCSI specifications fit into this category.

Vast quantities of on-line storage at lightning speeds
Performance is a key feature of the SCSIplex. It combines a very high speed RISC processor with extremely high-end, high-performance components. This means that with a SCSIplex performing the translation there is absolutely no change in throughput to the devices connected to the SCSI bus via the SCSIplex.

Bringing unparalleled performance into your high-capacity SCSI storage system
The Optical Access International SCSIplex processor system solves the problems associated with connecting large numbers of SCSI drives together. Physical limitations concerning the number of units, signal degradation, and other problems are all remedied. The SCSIplex can be easily integrated into existing lines of storage products. From its unique mounting adapter to three different ways to update firmware, OAI has taken the work out of the integration process.

A Customizable System
The SCSIplex is unique among OEM equipment. The SCSIplex is the platform for an integrated system of components that can be customized around your needs. Customize your hardware design with an optional alphanumeric display, and control keypad for setting SCSI IDs and termination. You can even connect multiple SCSIplex processors together and control them from a single keypad. Add OAI's SafeSwapTM to enable end users to replace drive mechanisms on the fly. From OAI's optional SuperCacheTM driver software to connections for LEDs to switchable active termination to custom firmware and hardware, the SCSIplex's versatility allows us to customize its behavior to meet even the most diverse customer requirements.